From September 15th through October 15th we celebrate the Hispanic American Community and a culture that is unique to 60 million people.
Fathom Reads is proud to include some wonderful true stories of Hispanic American accomplishments and fictional stories that center around cultural events or daily life. These stories come from Arte Público Press, the oldest publisher of U.S. Hispanic authors.
A program of the University of Houston, Arte Publico's Pinata Books publishes children's books accurately portraying Hispanic Culture in bilingual picture books through young adult novels. Fathom Reads includes many of these bilingual picture books, and while we would love to tell you why each one is great. Today, there is just not enough space. So, here are a few favorites that you might want to read first!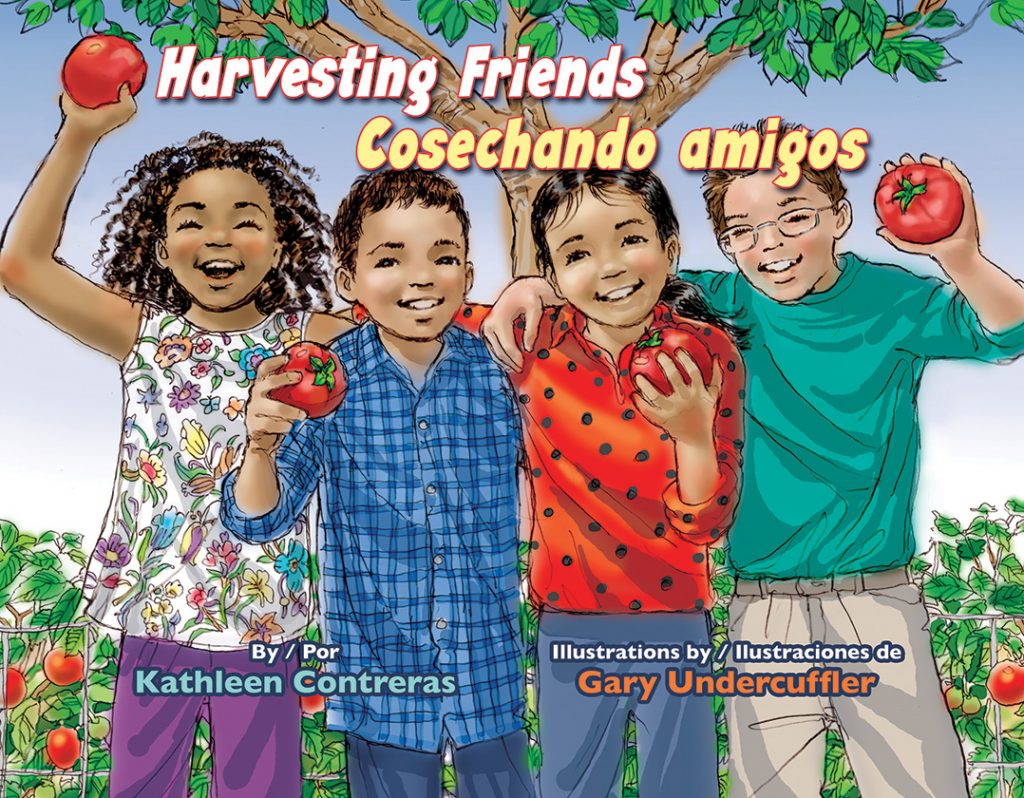 Harvesting Friends
Cosechando amigos
Young Lupe loves helping her mother with their salsa garden full of tomatoes, chile peppers, onions, garlic and cilantro. But one summer day, she sees that the biggest, juiciest tomatoes have disappeared! Who could have taken them?!?
Two weeks later, she catches the culprit in the act! It's Antonio, the new boy at school. His family doesn't have much money and the tomatoes look so good. He offers his gold necklace from his grandmother in Mexico in exchange for the tomatoes, but Lupe has a better idea. "Let's make a deal. You help me with the garden, and I'll give back your necklace and some tomatoes." They become friends over the summer as they weed, water and pick vegetables. When the growing season ends and they have composted the leaves and stems, Lupe happily returns Antonio's necklace.
The following year, Lupe and Antonio invite their neighbors to help with the garden. Soon everyone is pitching in to grow fruit and vegetables for salsa and much more, from tomatoes to watermelon, squash, beans and corn—America's first crops.
Including easy-to-make recipes, this bilingual picture book for children ages 4-8 will have them clamoring for a garden of their own to plant and harvest. Along the way, young readers—and the adults in their lives too—will learn that coming together as a community will enable them to harvest more than just vegetables.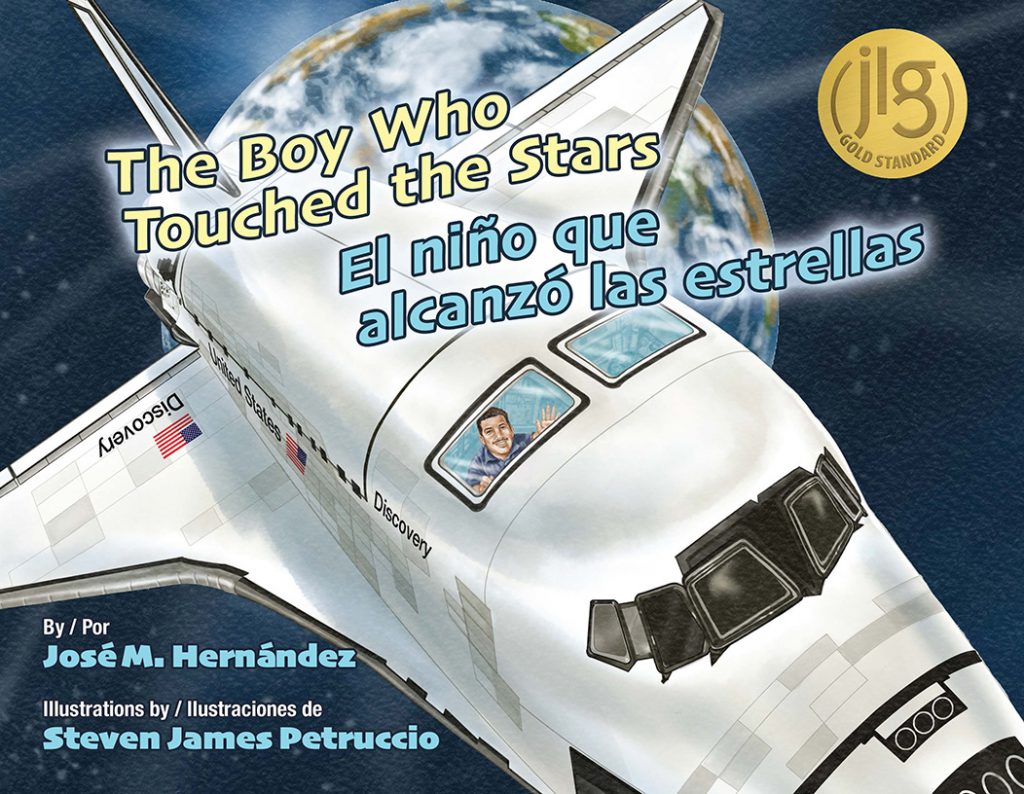 Boy Who Touched the Stars, The
El niño que alcanzó lsa eestrellas
Every night when he was a boy, José M. Hernández would look out the window and stare at the stars. They were different colors: blue, yellow and white. Some were larger and brighter than others, and some twinkled as if they were alive. Later, when he saw man land on the moon on TV, he knew he wanted to be an astronaut.
But José struggled in school because his family moved constantly and he didn't speak English. His parents were migrant workers from Mexico; they followed the crops up and down the state of California. José was in second grade when his teacher convinced his parents to stop migrating and stay in the United States. She also encouraged his love of astronomy, books and learning.
José became an electrical engineer, got married and had a family, and though he was very happy, he never stopped thinking about his dream. So he applied to NASA to become an astronaut. His application was rejected eleven times, but he kept applying. He was finally selected for astronaut school and achieved his dream when he flew on the Space Shuttle Discovery to the International Space Station!
With beautiful illustrations by Steven James Petruccio, this heartwarming, bilingual picture book will introduce children ages 5-9 to the concept of space travel. The author's story is sure to motivate kids to set goals and reach for their own dreams.
When Julia Danced Bomba
Cuando Julia bailaba bomba
"Julia, they're already warming up. Hurry!" Cheito says to his little sister as they rush to their bomba class. Cheito is a natural on the drums, but Julia isn't as enthusiastic about dancing.
Julia tries to imitate the best dancer in the class, but her turns are still too slow, her steps too big. She just can't do anything right! When the instructor announces the younger students will be participating in the bombazo and performing a solo, Julia is terrified. When it's her turn, she takes a deep breath, closes her eyes and focuses on the beat of the drum. As she dances, Julia notices that the drums are actually talking to her. Feeling braver, she stops worrying and trying so hard. Instead, she loses herself in the rhythm of the bomba drums and enjoys herself!
Introducing children—and adults!—to the Afro-Latino tradition of bomba music and dancing, author and educator Raquel M. Ortiz shares another story for children ages 5-9 about her rich Puerto Rican heritage. With lively illustrations by Flor de Vita that aptly express Julia's frustration, fear and joy, this book will help children understand that practicing—whether dance steps, dribbling a ball or playing a musical instrument—yields results!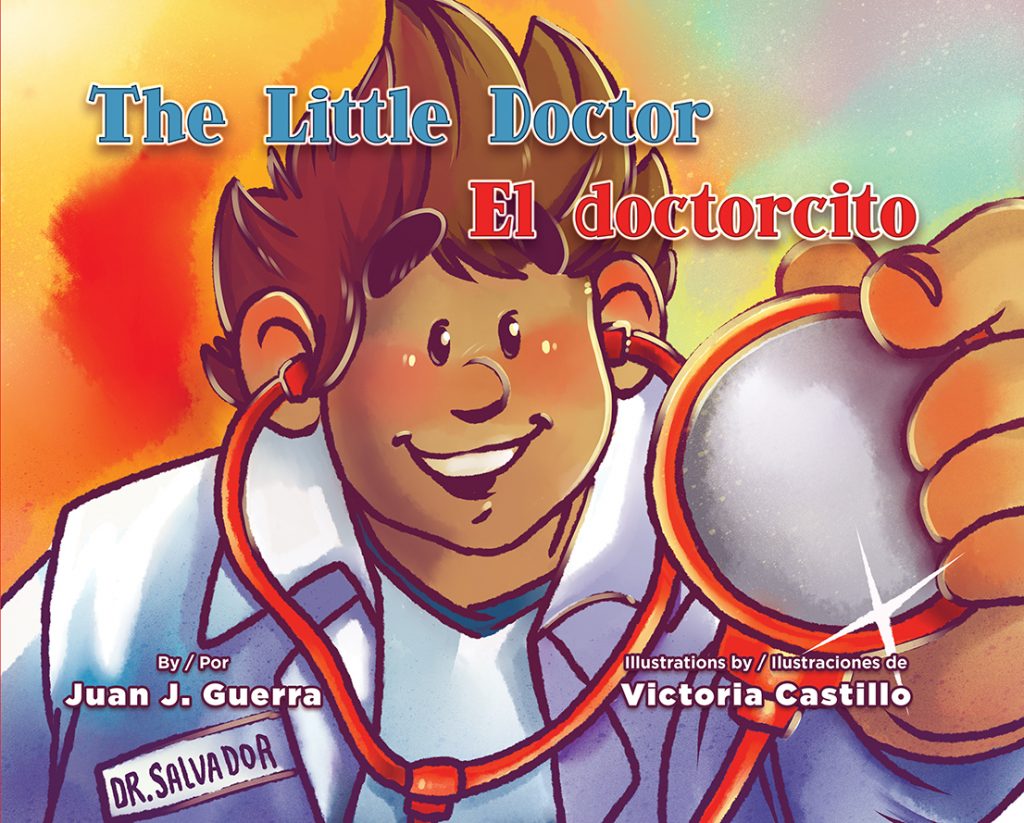 Little Doctor, The
El doctorcito
Salvador raced home from school to share exciting news with his abuela: he made an A+ on his science test! But at home, he learns that his grandmother needs his help. She is going to the doctor and wants her grandson to interpret for her. Abuela is nervous because she has never been to a doctor in the United States. In El Salvador, she either saw a curandera or drank té de manzanilla when she felt sick.
When he learns that none of the physicians speak Spanish, the boy realizes that he is completely responsible for making sure the doctor understands his grandmother—and that she understands his instructions! But in spite of his help, the visit does not go well. The doctor rushes in and out. He doesn't listen to Abuela. And he tells Salvador that she should not eat so much Mexican food! Abuela is so upset that she threatens not to take the medication the doctor prescribes! What can Salvador do to help her?
In this engaging bilingual picture book for children ages 4-8, a young Salvadoran boy dreams of becoming a doctor who speaks both English and Spanish so that patients like his beloved grandmother aren't afraid to visit the doctor. Paired with lively, colorful illustrations by Victoria Castillo, this book will encourage children to think about their own futures as well as the role their culture can play in helping the community.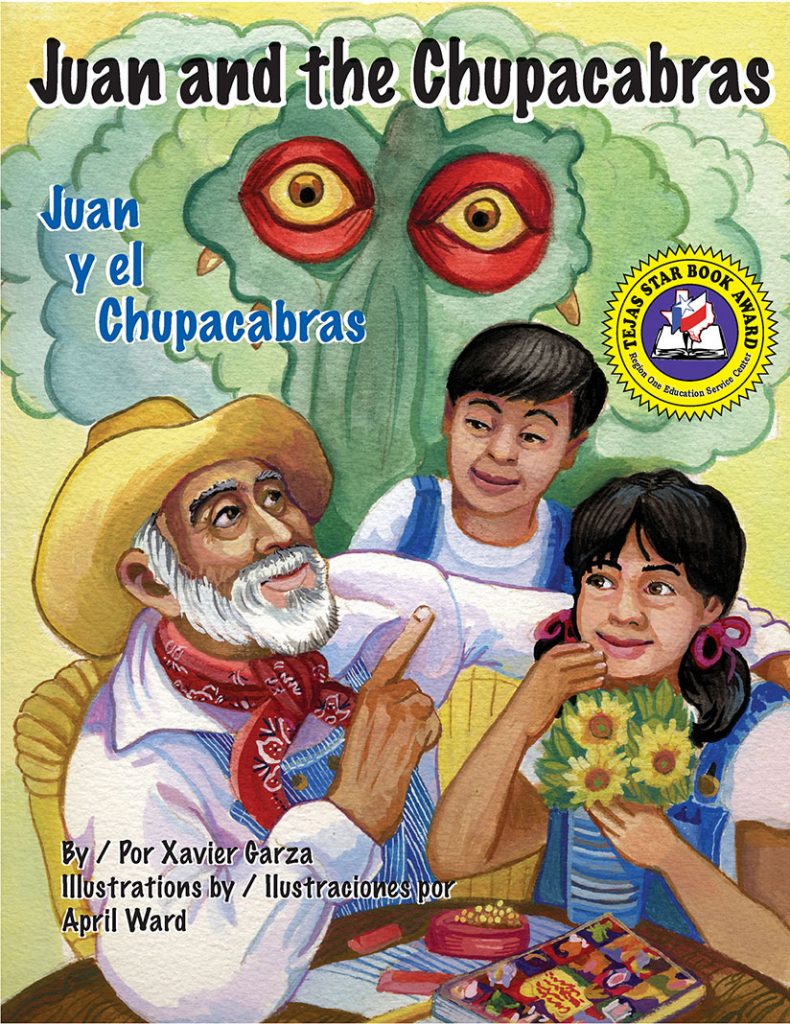 Juan and the Chupacabras
Juan y El Chupacabras
"The beast had dark green skin and glowing red eyes that were the size of two baseballs," Abuelo tells his wide-eyed grandchildren. According to Abuelo, a creature called the Chupacabras lurks in the fields looking for fresh victims.
Young Juan and his cousin Luz savor Abuelo's hair-raising stories. He tells the children of defeating terrifying fiends like the Chupacabras and La Llorona. The children cling to every word as he describes his brave stand-off with the Chupacabras, a terrifying beast with wings, claws and sharp fangs.
But yet they wonder if there's more to his strange story than meets the eye. Plucky Luz hatches a plan to either disprove Abuelo's tale or hunt down the menacing monster and put an end to it once and for all. Armed with a bag of marbles dipped in holy water and a sling shot, the children venture into a cornfield one moonless night in search of the truth.
Just like Chupacabras's thirst for blood and the children's appetite for Abuelo's stories, young readers aged 3-7 will devour the pages of this exciting picture book that transmits the storytelling traditions of the Mexican-American community from one generation to the next.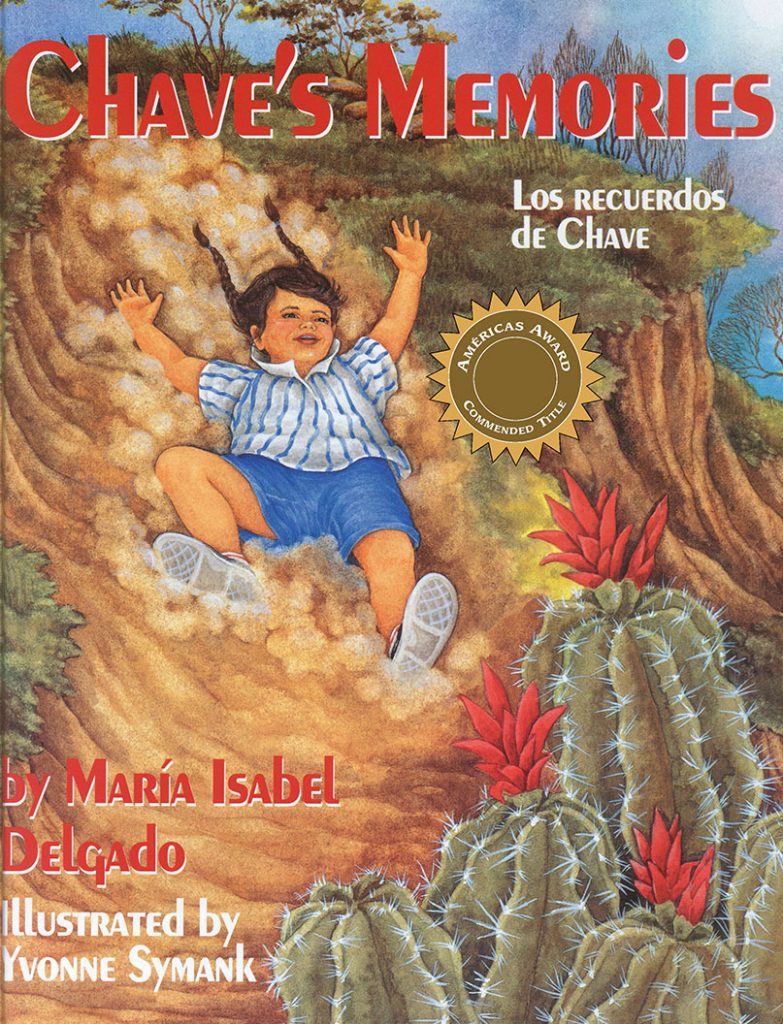 Chave's Memories
Los recuerdos de Chave
Leaving behind city life in the U.S. to visit her grandparents in rural Mexico was always an adventure for Chave. Her grandparents' ranch held a world of wondrous surprises for her and her cousins. Tending to the animals, frolicking in nature, exploring the mystical world of traditional storytellers—all this and more was pure magic for Chave.
This bilingual picture book depicts the beauty of life on the U.S.-Mexico border as a gateway to two cultures, and will open children's eyes to two lifestyles, two sets of traditions and customs.
Butterflies on Carmen Street
Mariposas en la calle Carmen
"Today is Butterfly Day!" Julianita excitedly tells her grandfather as they make their way down Carmen Street to school one morning. Today is the day Julianita and her friends have been waiting for—they're going to learn about monarch butterflies. But what's even more thrilling is they're each going to receive their very own caterpillar to raise! When Julianita gets hers, she names him Tiger because of his striking yellow and black stripes.
Ms. Rodríguez teaches her students all about the monarch. But Julianita already knows that they fly south thousands of miles every winter because her grandfather remembers seeing the beautiful monarchs in his village in the highlands of Mexico. As the children feed and care for their caterpillars, they anxiously anticipate the transformation from caterpillar to chrysalis to butterfly.
When Tiger finally emerges from his chrysalis, Julianita doesn't want to let him go. She worries that he will get lost on his way to Mexico. "Tiger knows the way to Mexico because it's in his heart," her Abuelito reassures her. She feels sad to see Tiger fly away, but Julianita knows that someday, she will follow him to her grandfather's magical Mexico.
Paired with April Ward's charming illustrations that depict Julianita's neighborhood—her home on Carmen Street, the bench where Abuelito rests in Palo Verde Park, her parents' store that sells everything in the whole wide world—this book by award-winning author Monica Brown is sure to entertain and educate kids ages 3-9. This is a perfect choice for children learning about insects and the forces of nature.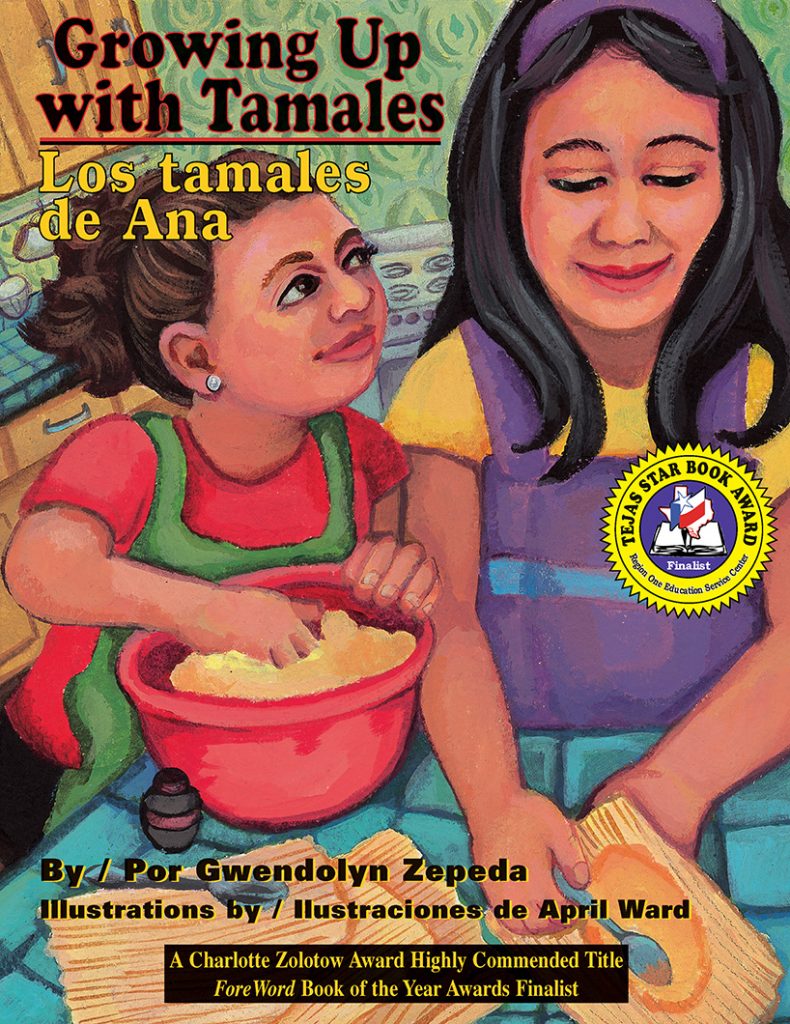 Growing Up with Tamales
Los tamales de Ana
"My name is Ana. Every year, my family makes tamales for Christmas. This year, I am six, so I get to mix the dough, which is made of cornmeal. My sister Lidia is eight, so she gets to spread the dough on the corn husk leaves. I wish I was eight, so that my hands would be big enough to spread the dough just right—not too thick and not too thin."
And so the years pass, and Ana turns eight, ten, twelve, fourteen, sixteen. But every year, big sister Lidia is always two years older. Ana envies her elder sibling and wishes she could do what Lidia does: put just the right amount of meat inside the tamales and roll them up; steam the tamales without scalding herself with the hot, hot steam; chop and cook the meat for the tamales without cutting or burning her hands.
When she turns eighteen, though, Ana knows she will keep making tamales and she will be able to do all of the steps herself in her very own factory. When Christmas comes around, Ana will deliver tamales to all of her customers around the world, in delivery trucks that say "Ana's Tamales." And, Ana thinks, if her sister Lidia wants to, she can work for her!
Gwendolyn Zepeda's rhythmic prose is combined with April Ward's bright illustrations to create an affectionate and amusing story about sibling relationships that introduces an important Hispanic holiday tradition—making tamales!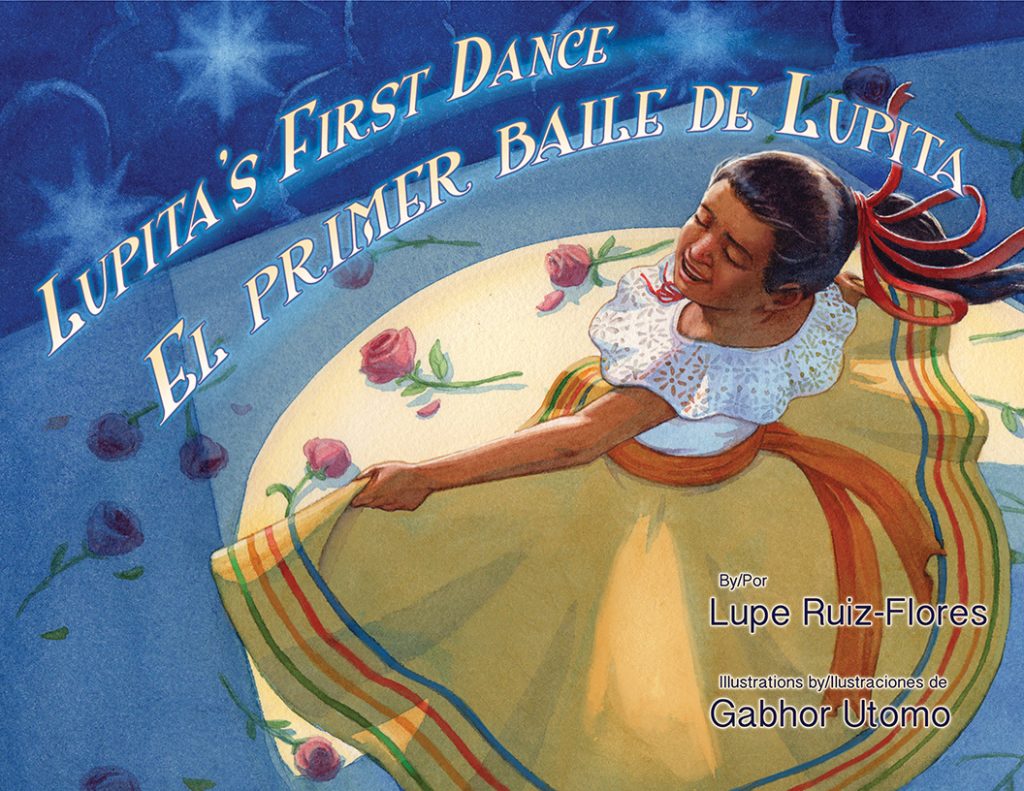 Lupita's First Dance
El primer baile de Lupita
Lupita is excited about dancing la raspa, a Mexican folk dance, with her first-grade class at a celebration of Children's Day. But she's devastated when she learns right before the show that her partner Ernesto sprained his right ankle.
She had been practicing for weeks. And now her family won't get to see her, swishing and swaying in her beautiful dress full of colorful ribbons. Lupita sadly watches the other dancers from backstage behind the blue velvet curtain. But suddenly, she finds herself on stage, in the spot where she and Ernesto should have been. She begins to dance the routine she knows so well, holding her arms out to an imaginary partner, and almost flees when the audience laughs at her.
But the sight of her mother encourages her to be brave. She continues the dance, becoming the star of the show—at least in the eyes of her proud teacher and parents.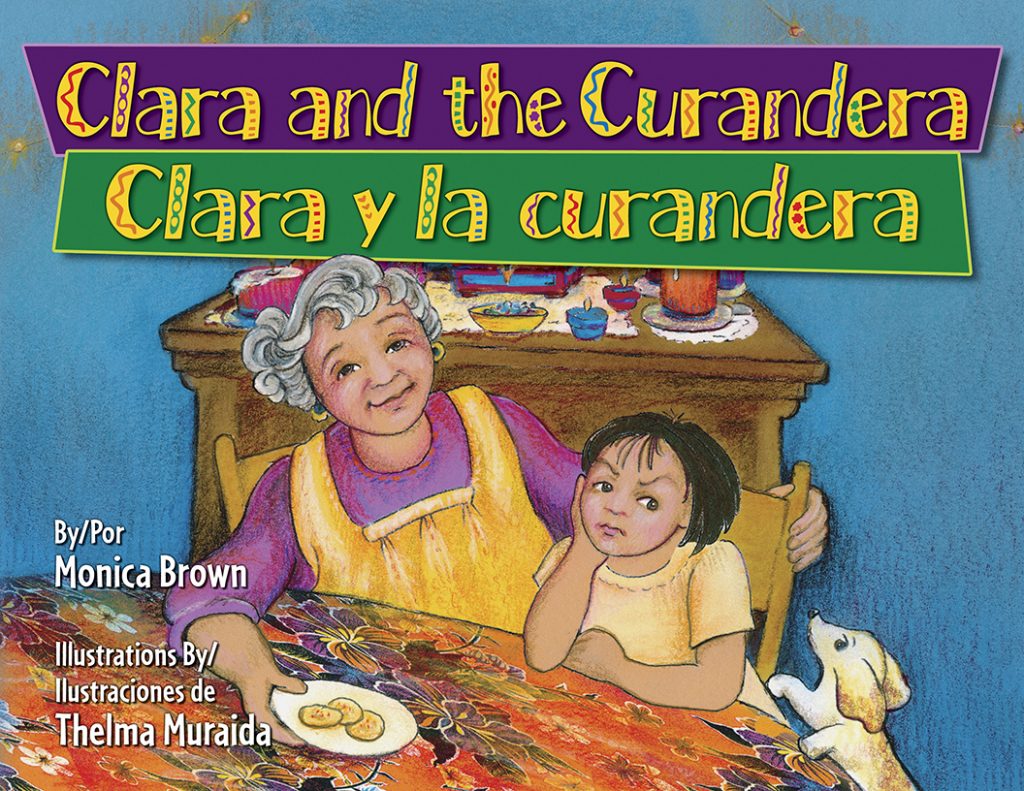 Clara and the Curandera
Clara y la curandera
"Once there was a little girl named Clara, who was grumpy." She was grumpy about having to take out the trash, having to share her toys with her seven brothers and sisters, and having to read one book a week for school.
And Mami is tired of Clara's grumpy face, so she sends her daughter to the curandera—or healer—to ask for help. The curandera gives Clara a list of things to do in the coming week: take out her own trash and the neighbors' as well; give all of her favorite toys to her brothers and sisters; and read five books instead of one!
It's a difficult, busy week for Clara. But, her neighbors are grateful for her help, and give her hugs. Her siblings are so happy that they are extra nice to her and invite her to play with them. She has fun jumping rope, playing checkers and soccer. Her mother takes her to the library to check out books and she reads lots of interesting things. When the week is over, Clara realizes that she has not had time to feel grumpy. Could it be that helping others makes her feel … happy?
In this winning bilingual picture book written by award-winning author Monica Brown and vividly illustrated by Thelma Muraida, children ages 4 – 8 will cheer for Clara as she learns to focus on others rather than herself.
This is just a small selection of the 64 Arte Público titles live on Fathom Reads with more to come. You can demo the amazing capabilities of Fathom Reads and read a preview of each title here (https://www.fathomreads.com/) or customize your subscription here (https://www.fathomreads.com/index.php#plans)! For Spanish language learners, Fathom has more than 800 books in Spanish!